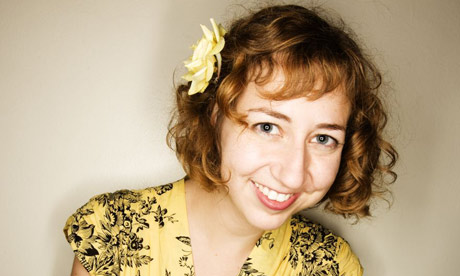 Kristen Schaal is an exceedingly popular and constantly working comedian based in New York. She was named "Best Alternative Comedian" at the US Comedy Arts Festival in Aspen back in 2006, and since then has been awarded the Andy Kaufman Award, the ECNY award for "Best Female Stand-up Comedian" and the prestigious Barry award for her show at the Melbourne International Comedy Festival. Along with her partner-in-comedy, Kurt Braunohler, she recently recorded a pilot for the BBC based on her popular webseries, Penelope: Princess of Pets.
Publicly she's probably best known for her role as Mel on HBO's Flight of the Conchords, and her roles on The Daily Show, Mad Men, and a host of other movies and TV Shows. Upcoming film roles include Shrek Forever After, Dinner for Schmucks with Steve Carell and Paul Rudd, and a dinosaur in Toy Story 3. She also co-wrote a book about sex, coming out in bookstores soon.
She performs every week with the hilarious improv team Big Black Car at The PIT, owns a pretty sweet Omnichord given to her by the Conchords after their last tour together, and has recently been carrying around a thick John F. Kennedy biography in her bag.

You went to Northwestern in Chicago. Were you performing a lot of stuff at school? Did you know back then that wanted a career in comedy?
Northwestern is an incredible school to go to if you're pursuing performance as a career. There's an ambitious student body that produces up to 60 productions a year. So I got to be in plays, and I was in the sketch comedy troupe there. Also Second City and Improv Olympic are near by and I took classes there too. I did know that I wanted to do comedy.
After college, did you come to New York right away or did you take some time off?
I came directly to New York. I couldn't wait to get going.
How did you support yourself in the city at first? Did you have a lot of different day jobs?
It took me a long time to land a job, which was stressful. I tried the restaurant route and got rejected consistently. After a couple months I finally got hired at Planet Hollywood in Times Square because they will take any sucker. It was hard to make money there because you had to tip out of your food sales to your runner and busser and bartender, instead of tipping out of your tips. If you got stiffed by a table you might be paying the restaurant to let you work there that night. It was a nightmare.
Then I worked as a temp at a few law firms. That wasn't so bad, except you could clock in over sixty hours a week and watch your life slip away in file boxes.
I was a character actor at F.A.O. Schwartz; that was the worst one. No one wants to pretend to be happy for an eight-hour shift. It's mentally unhealthy. Then I went back again to waiting tables. I booked a few commercials during that time, and I used it all to pay off student loans. You're welcome Northwestern! Or shall I say, Sally Mae?
Did you ever get really frustrated with the business-side of things and just want to give up entirely? How did you move past that?
Absolutely! I have to say that the entertainment business is somewhat broken. There's a lot of talented people that aren't getting seen for auditions because they can't break through the agent/manager barrier. I was there for years. I had a manager at the beginning who did more harm than good. But I was too scared to leave him so I let him be un-supportive of me for five years.
You have to realize that you have no control over the industry and just do your own thing. That's the secret. As soon as I started pouring myself into my own comedy and shows the biz started to perk up. My own projects became my job and I didn't have time to sit around waiting for a questionable manager to call.
Did you easily segue from improv and theatre into your own stand-up and personal comedy projects? Did you have to play the open mic circuit at all?
Yes, I use both aspects of improv and theatre in my stand-up and shows. I did play the open mic circuit. The one that I went to every Sunday was called Surf Reality on the Lower East Side. Every Sunday the MC, FaceBoy, would draw your name out of the hat and that's the order. Everyone got 8 minutes, and it was such a vibrant scene you could be there till 4AM till you got your spot. It was an amazing show, everyone was doing wildly different things. I cut my teeth there.
Was there a moment for you when you knew you could actually do comedy for a living?
My last day job I was trying to get my shifts covered more than I was working them because I was so busy with comedy gigs. And then I won the Andy Kaufman award and I went to my restaurant across the street with a giant check for $5,000 and was like "I'm outta here!"
Do you have any "golden rule" type advice you'd give to people trying to establish themselves?
Treat the stage as a privilege. Having an audience watch you perform is an honor, even if you are in the basement of a dingy bar. And go up as many times as you can.
Interview by Lucas Kavner